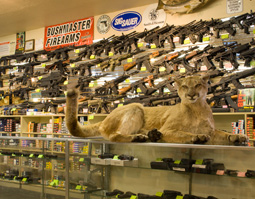 Welcome to AJI Sporting Goods – your full service neighborhood gun shop located on the border of Apache Junction and Mesa, Arizona. We pride ourselves on having the most experienced and knowledgeable sales staff in the Valley.
We carry all the top brands as well as some quality products you may not be as familiar with. Our staff will not push a particular brand on you, but rather sell you the best firearm that fits your needs and budget. We BUY, SELL & TRADE.
What to expect
Knowledgeable & friendly staff members
Competitive pricing & Wide selection
Services like Scope & Accessory Mounting, and UPS/FFL
Huge selection of Surplus firearms
Hard to find Ammo
We have recently expanded the store and now offer even more firearm and survival accessories.  From holsters, carrying packs, knives, dehydrated food, scopes, lasers and lights to a huge selection of ammo…including hard-to-find.  We continue to strive to be your one-stop-shop when it comes to your firearm and survival needs. We'll be happy to answer any questions you may have.
*