AJI Sporting Goods is a full service Gun Store. In addition to our many products we offer an array services to help our customers, such as FREE firearm evaluations, firearm appraisals, mounting scopes and other accessories. We also can assist you in selling your firearm collection.
Unlike many of our competitors, we will be glad to assist you in firearm transfers and other needs you might have. Just stop in and you'll see the difference here at AJI Sporting Goods.
UPS/FFL Firearm Transfers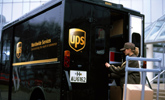 We'll provide you with a signed copy of our FFL. We are a UPS Shipping Agent so shipping and receiving your firearms and other items is simple and secure. The Best part…
we only charge

$20

for firearm transfers.
GUNSMITHING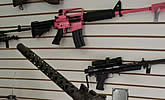 We have a gunsmith on site who can fix, or trick-out your firearms. His gunsmith services are independently owned and operated…please
contact
 Wes directly with any questions.
480-686-4188
SCOPE & ACCESSORY MOUNTING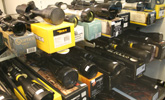 We can assist you in selecting, mounting and adjusting your scope and other accessories.