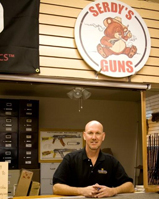 When I created A.J.I. Sporting Goods, I made it the kind of store I would want to shop in…I strive to create a friendly atmosphere and low pressure sales environment. Our salesmen are helpful, and, you won't find them pushing a particular brand.
At AJI Sporting Goods, to make the shopping experience as enjoyable as possible you will notice that all firearms on display are clearly visible with color coded price tags: Green for new; Pink for used; and Blue for Consignments.
Thank you for your interest. I hope you will stop in and see us. I think you'll be surprised by our selection and our competitive prices.
Sincerely,
Jeff Serdy – Owner